Enjoy reading about places beyond the usual tourist trail?

Interested in the rich diversity of cultures that make Europe so special?

Then you will like hidden europe magazine!
Subscribe online via our online shop.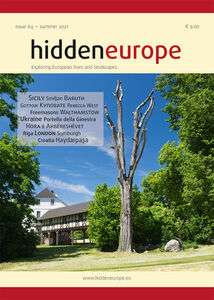 Subscription details
hidden europe is published three times a year: in mid-March (spring), mid-July (summer) and mid-November (winter). A one year subscription (3 issues) costs € 26 / £ 23.50 (within Europe) or € 29 (rest of the world). These prices include shipping costs (airmail) and all necessary sales taxes (7% VAT) where applicable. And why not take out a gift subscription for a friend?
Money back guarantee
Should you find that hidden europe magazine is not for you after all, just contact us to cancel your subscription and we shall happily refund the costs for any unsent issues. No questions asked! So why not give it a try and order hidden europe today?
Themed sets
We now also offer themed sets comprising three hidden europe issues each. Every set covers the full range of hidden europe work. Choose our preselected option to ensure that your favourite area or topic is covered in each of the three issues you select. We offer the following themed packs:
Balkan countries
Baltic states
Croatia & Slovenia
Eastern & central Europe
France
Italy
Mediterranean & Adriatic
Minority cultures
Northern Europe
Rail travel
Religion
Scottish islands
Slow Travel
Spain
Switzerland
United Kingdom
Walks
Western Europe
Wine
The price for each set is: € 22.50 / £ 20.40 (within Europe) or € 25.50 (rest of the world) inclusive of shipping costs and taxes (where applicable). For details on which issues are included in each set, see our online shop.
Back issue sets
We also offer sets of back issues:
any 3 back issues: € 22.50 / £ 20.40 (within Europe) or € 25.50 (rest of the world)
any 6 back issues: € 39 / £ 35 (within Europe) or € 47.50 (rest of the world)
Of course these prices are inclusive of shipping costs and all necessary sales taxes (where applicable).
Although hidden europe is usually purchased on a regular subscription basis, we also make provision for those who just want to buy a single copy. Prices for a recent single issue are € 9 / £ 8.20 (within Europe) or € 10 (rest of the world).
How to buy? That's easily done...
Just place your order at our online shop (opens in a new window). Alternatively you can call us on 0049 (0)30 755 16 128 (weekdays between 9.00 and 18.00 CET).
Please note that hidden europe can only be purchased directly from us. We prefer to have direct contact with our customers. The overheads imposed by high street retailers would more than double the cost of hidden europe. So we prefer to take your orders personally or via our online shop.
We accept payments in pounds sterling and Euros and you can pay by credit card (VISA, VISA Debit, Mastercard, AMEX), by direct bank transfer (for German and UK customers) or by international bank transfer (IBAN and BIC).
If you have any questions about payment options and procedures, please contact us at via our online contact form or browse the frequently asked questions.
hidden europe is a completely independent, advertising-free publication.